Chlorothalonil
Action / Use
ACTION: Fungicide.
USE: Bravo* or Echo* for beans, carrots, celery, cole crops, conifers, corn grown for seed, sweet corn, cranberries, cucumbers, dry edible beans, garlic, leek, melons, mint, onions, papaya, passion fruit, peanuts, potatoes, pumpkins, shallot, soybeans, squash, stone fruits, tomatoes, ornamentals, grass grown for seed. Quadris Opti* for potatoes, tomatoes, vegetables.
FORMULATIONS: Flowable, water dispersible granule, wettable powder, exothermic dust.
PREMIX PARTNERS: Azoxystrobin; Carbendazim; Copper Oxychloride; Copper 8-Quinolinolate; Cymoxanil; Cyproconazole; Difenoconazole; Dimethomorph; Fludioxonil; Fluoxastrobin; Hexaconazole; Iprodione; Metalaxyl; Metalaxyl-M; Potassium Phosphite; Propamocarb Hydrochloride; Propiconazole; Pyrimethanil; Sulfur; Tetraconazole; Thiophanate-methyl; Vinclozolin.
Identification
COMMON NAME: Chlorothalonil (ANSI, ISO, BSI); TPN (JMAF).
Chemistry
COMPOSITION: Tetrachloroisophthalonitrile (1).
PROPERTIES: Tech: White crystalline solid. Melting point 250-251℃. Thermally stable under normal storage conditions. Stable to ultraviolet radiation; in neutral or acidic aqueous media. Odorless in pure form. Nonvolatile under normal field conditions. Vapor pressure, 5.72 x 10-7 torr at 25℃. Slightly soluble in xylene, acetone.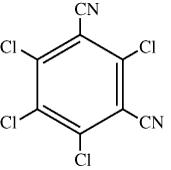 Safety Guidelines
TOXICITY: (Rat): Oral LD50 >10,000 mg/kg. Inhalation LC50 Actual airborne concentration: (1 h) 0.52 mg/l; (4 h) 0.1 mg/l. Nominal: (1 h) 7.9 mg/l; (4 h) 0.62 mg/l. (Rabbit): Dermal LD50 >10,000 mg/kg. Skin, eye irritant.
HANDLING/STORAGE CAUTIONS: Keep in cool, dry, ventilated place. Avoid contact with skin and eyes.